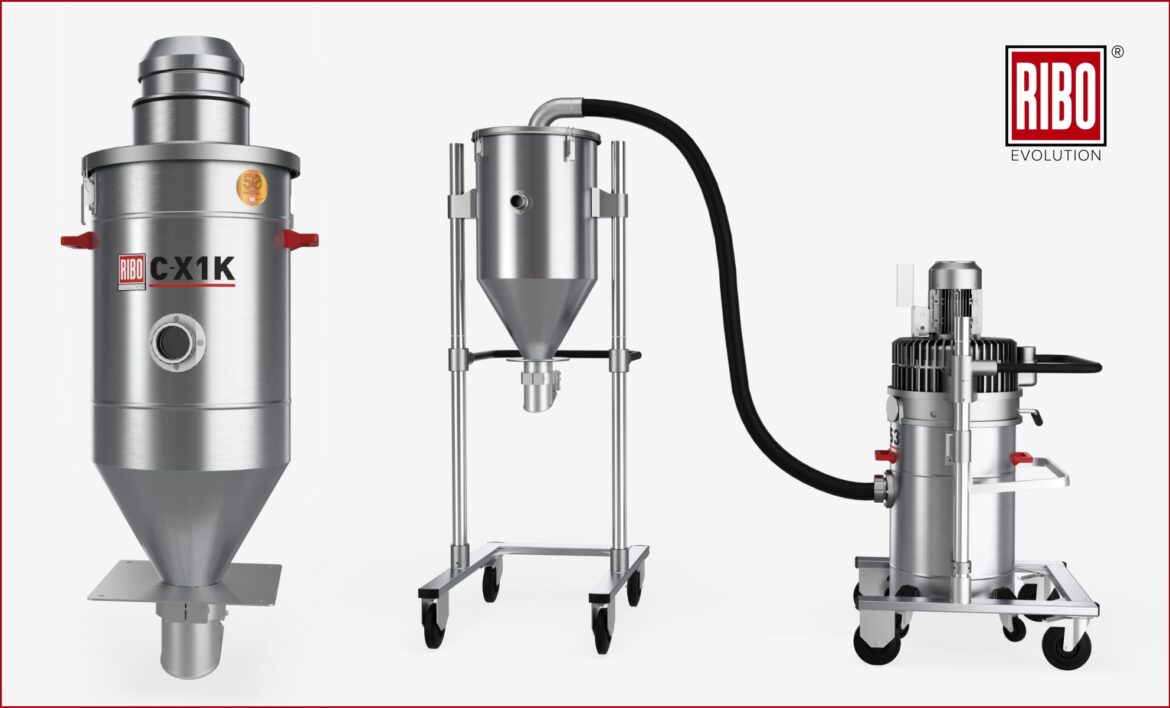 The transport of materials from point A to point B represents a significant phase for the production processes of all product sectors. The types of material can be the most varied: from powders, to granules, up to small objects such as caps or capsules. To avoid complications due to manual movement of materials, pneumatic conveying systems are used. RIBO has specifically studied ad hoc solutions to overcome these difficulties: let's see how they work.
How pneumatic conveying works
Pneumatic conveying systems allow the movement of material from a starting point to an end point. This happens thanks to the exploitation of the vacuum as a principle of driving force that allows the transport of material, ideally, from a collection container to the machinery that will process it, turning it into a finished or a semi-finished product.
Speaking of material movement tout court is actually an understatement. In fact, the flexibility of the RIBO pneumatic conveying systems also allows the loading / unloading of machinery or containers, the distribution of the material to different points and the withdrawal of material from several different points. For this reason, our vacuum pneumatic conveying systems are ideal for chemical, pharmaceutical and food industries that require maximum precision and hygiene.
Why equip yourself with a pneumatic conveying system
RIBO pneumatic conveying systems are applied to numerous contexts of use and production sectors. In particular, they can be used alongside dosing, packaging and mixing machines for bagging, dosing and mixing needs.
Among the advantages that pneumatic conveying brings to companies with these needs we find in the first place the health of the operators, who are very often forced to carry heavy loads themselves. In addition, the pneumatic handling of materials makes it possible to avoid potential product losses in the work area, which could be potentially dangerous for the health of operators, as well as represent considerable waste for the company.
RIBO pneumatic conveying systems make it possible to overcome all this, simplifying processes, preventing potentially harmful product contamination and safeguarding the healthiness of the workplace. In addition, the use of this type of systems allows your company to significantly increase the productivity and efficiency of the machines which they work with.
RIBO offers various solutions for loading and unloading materials to meet the needs of all types of industry. In fact, RIBO loaders can be configured with suction on the hopper, such as our C-X1K, or with separate suction head and hopper. Furthermore, all our pneumatic conveying systems can be customized with stainless steel configuration, for all those companies in the pharmaceutical and food sectors where the product comes into direct contact with the machinery. In fact, stainless steel allows a very high level of hygiene and guarantees that the product will not be altered.
Contact us to study with us the pneumatic conveying system that best suits your needs!